I love football. I really do. And I love "Wildcard Weekend."
Is anyone else enjoying some football this weekend?
3 great games yesterday, and there are another 3 good ones slated today. Typically, these games this late in the year come down to 5 important things…
Turnovers. The team with the fewest turnovers usually wins.
Converting points in the Red Zone. TD's are better than field-goals, but you must come away with points.
Penalties. You must have discipline and some luck (Yes, referees do come into play here.)
3-5 "big" plays during the game. It's time for the "big-time players to make big-time plays."
COACHING. The team with the best coaches have their teams best-prepared mentally & physically and make the necessary adjustments and calls DURING the game to help their players succeed. It's a huge factor to have a GREAT coach! Yep. All 5 of these are important in any game, let alone in the playoffs. But when the pressure is on, and the loser goes home, the stakes get higher and every play counts.
In yesterday's games, I picked the Bills, Seahawks, and Bucs.
I was right on the Bills. The Bills are my pick to go to the Super Bowl in the AFC. I'll just say Coach Sean McDermott was my teammate at William & Mary and is my "little brother" in Kappa Sigma. Bet you never knew I was even in a fraternity back in the day! (Listen to my podcast episode with Coach McDermott just before the season here).
I was wrong on the Seahawks. The Rams went into Seattle's house and put a whoopin' on them. The Rams defense is stellar, Cam Akers had a dominant performance rushing for 131 yards, and Jared Goff had a heroic effort coming off the bench after having 3-pins inserted into his thumb on his throwing-hand just 12-days ago.
I was right on the Bucs. The Bucs have Tom Brady. They are dangerous. 'Nough said.
Today's game should be exciting as well.
Here are my picks for today:
Browns vs. Steelers
Steelers have another great coach and another fellow teammate & alum from William & Mary in Mike Tomlin. And they have Big Ben. He's a wise-veteran QB who has been here before.
I do like the Browns, despite them missing their head coach related to Covid-19 issues. I would love to see Baker Mayfield and the city of Cleveland get a playoff win but without their coach and playing at Heinz Field, I think the Brownies come up a tad short, much to my chagrin.
My pick:
Steelers 27
Browns 23
Titans vs. Ravens
The Titans have a blue-collar mentality with a running back that is as tough as they come in Derrick Henry. The Ravens have LaMar Jackson. And he's scary. The Ravens are a dangerous team in the playoffs, but the Titans line is too good and they are going to win the battle in the trenches. Henry and the Titans are going to beat them up. And kicker Stephen Gostkowski hits a game-winner. Yep.
My pick:
Titans 24
Ravens 21
Bears vs. Saints
The Bears backed their way into the playoffs, and I just don't see Trubisky leading Da Bears to a win in New Orleans. I really don't. Drew Brees treats EVERY year like it could be his last but this one really could be. All weapons are a full go. And did I say they are in the Dome. Heck, I have the Who Dat's going all the way to the Super Bowl.
My pick:
Saints 45
Bears 9 
Haha. I got you with that last one. Hey, I've been training Drew for 18-years, and I'm hoping that he can get one more ring. I know he's going to lay it all on the line like he has been all season playing with 11-cracked ribs and a punctured lung.
All right. Time for me to hunker down and get ready to watch some football.
Create a great day. Remember, "NEVER play prevent-defense and if in doubt—GO DEEP!"
Much love…and lots of FOOTBALL!
Todd
4 More Things…
P.S. #1. Thank you, Drew Brees
Check out this special gift from Drew that I received in the mail on Friday…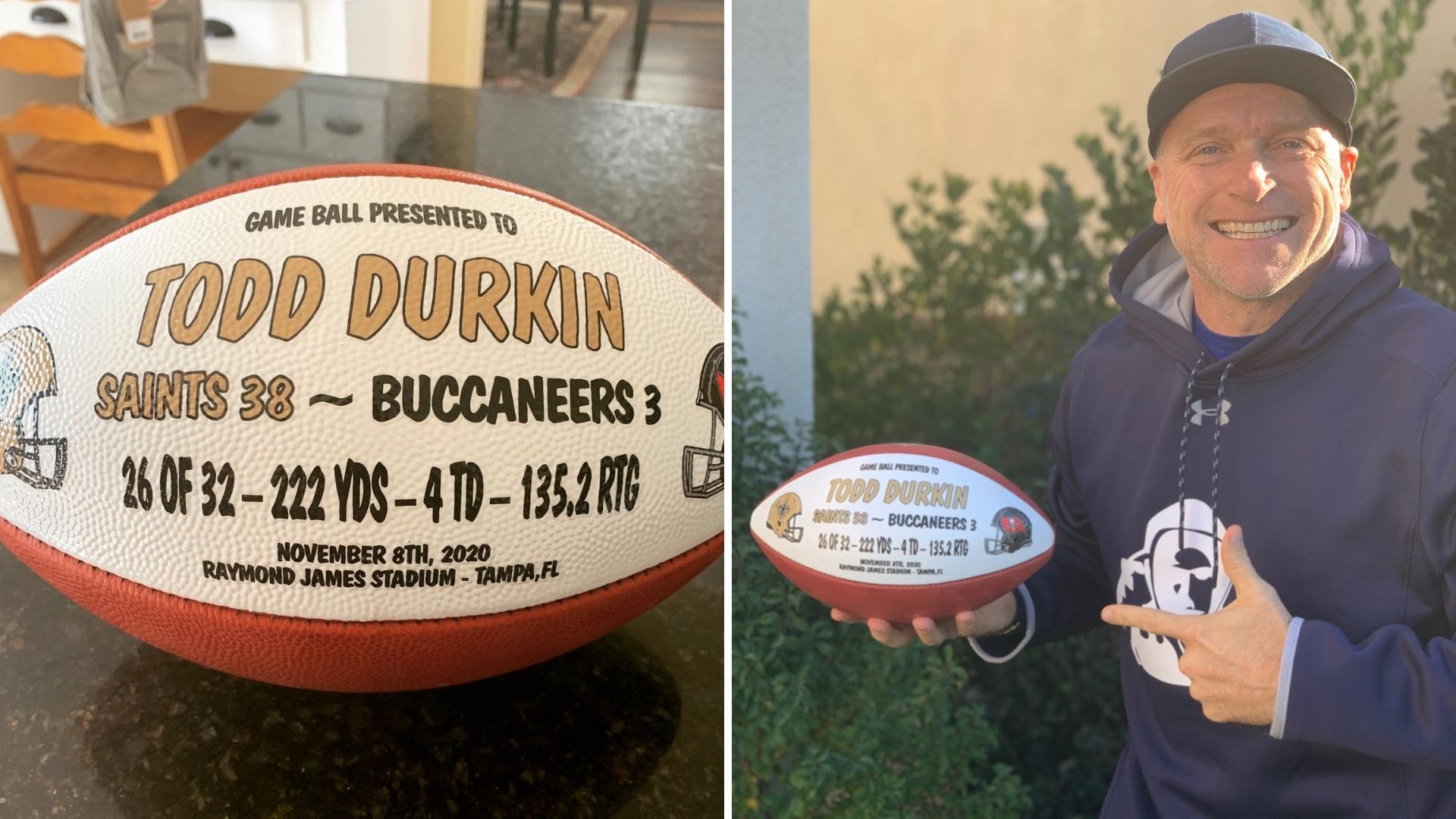 Pumped to Receive a Saints Game-Ball this Week! I was so pumped and honored to receive a game-ball this week from the Saints vs. Tampa Bay Bucs game from Nov 6th. WOW. Little does the general public know how appreciative many of these guys are. Drew epitomizes humility, gratitude, and appreciation, and he's been this way for as long as I've known him. 
P.S. #2. If you are ready to go to "another level" and get some more wins in your business or life, I would love to COACH you as well.
There are 2 options:
1. FIT-PROS. If you are a fitness professional searching for a mentor and coach, I would be honored to work with you in my Todd Durkin Mastermind program. https://todddurkinmastermind.com/
2. NON FIT-PROS. If you are an entrepreneur, leader, executive, or a fitness enthusiast who would like business, life, and health/fitness coaching, my IMPACT COACHING program is designed to offer you an intensive 8-week program to amp-up all areas of your life. https://todddurkin.com/impact-coaching/
P.S. #3. Hey trainers, do you want to join my Mastermind "Inner Circle" Coaching Call this Tuesday at 8 am PST/11 am EST and receive some high-level COACHING?
If so, simply email me at durkin@fitnessquest10.com and I will send you the ZOOM link prior to the call so you can be a personal guest of mine.
I will be covering several different topics/areas on Tuesday in regards to…
Business in these COVID crazy times. 3 "Must-Do's" that every fit-pro MUST be doing and what we MUST be doing this month to get ahead in business.
Leadership. How to best lead, communicate and drive your culture right now.
Marketing & Branding. I want to share something "BIG" that I'm doing now & will be doing in 2021 that can help you grow your "online" or brick & mortar brand even more.
Personal Growth. A few "personal" shares with my tribe.
Open Q&A. Many fit-pros are in the same boat right now. A ton of energy is going out. Easy to feel drained and "empty." I want to speak life into those on the call and open it up to ANY & ALL QUESTIONS from the field.
If you want to be part of this call with my "inner circle," let me know by emailing me at durkin@fitnessquest10.com by Monday at 5 pm EST/2 pm PST and I'll get you all the information for Tuesday.
P.S. #4. Who wants to talk NUTRITION?!
Be sure to listen to tomorrow's podcast episode on NUTRITION. Nutrition is always a hot topic. But with the start of the year, stress at all-time highs, and the desire to maximize one's health & immunity, you will receive GREAT VALUE in tomorrow's episode.
and you will receive "Clean-Cut Nutrition for Good Health" tomorrow!!